WE ARE HAPPY TO ANNOUNCE THAT SQUID LIPS, LOCATED IN SEBASTIAN ON THE INTERCOASTAL WATERWAY, IS BRINGING BACK BILLY MURE'S FULL, FIVE PIECE DIXIELAND BAND EVERY SUNDAY STARTING DECEMBER 26TH FROM 5 - 9PM!!!
BILLY HOPES TO SEE YOU ALL THERE. JOIN DEBBIE BROWN-MURPHY ON KEYBOARD, LEN BENTLEY ON HORNS, MARK GREEN ON TRUMPET AND BILL SHINE ON CLARINET. AND, OF COURSE, BILLY MURE ON GUITAR AND BANJO!!
The lovely and beautiful Debbie Brown-Murphy with her favorite man, guitar legend Billy Mure, whom she performs with on Sunday nights at Squid Lips and Thursday nights at Patti's Bistro in Sebastian with their band The Top Hats.
Debbie has had an incredible career as lead singer with some of the top bands in the world; Billy May Orchestra, Johnny Long Orchestra, Bob Bachelor Orchestra, Hal McIntyre and the Pee Wee Hunt Orchestra where they recorded with Capital Records, as well as the featured singer at the swank Hotel Pierre in New York City for over ten years.
.
Call 888-228-4492 to book Debbie and Billy, minimum of $300.00 or the Top Hats Band, minimum of $500.00
In 1954 Debbie entered the Red Feather Campaign Fund Raiser Contest, a television show much like modern day American Idol, where you performed and viewers mailed in postcards voting for their most favorite contestants. The three winners would become the Red Feather Trio and would be sent all over the New England area, recording, singing, and raising money.
"This is fare weather to wear your red feather. Give more. Give gladly, Give now."
Debbie worked for the John Hancock Co. of Boston MA in the 1950's, appearing in their shows as a singer and dancer. In 1953 she was assistant choreographer for Boston College and taught dancing. She also was asked to model for many local companies.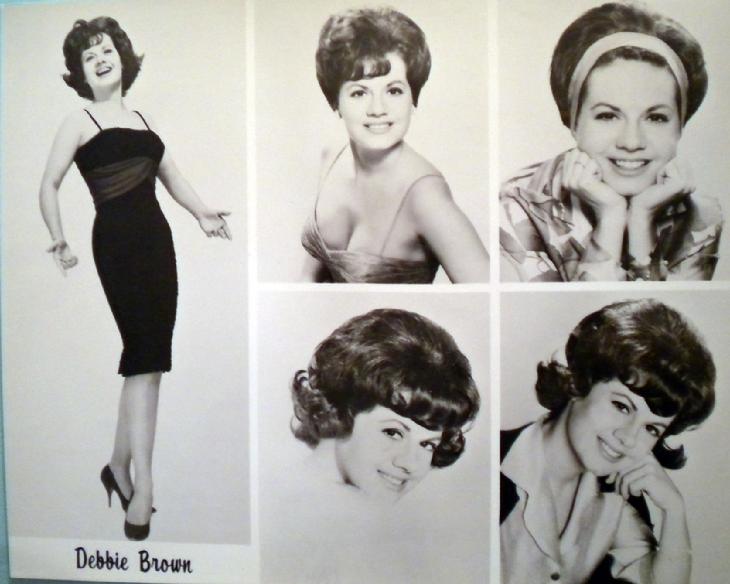 Debbie's modeling portfolio
In 1955 Debbie was voted in as the football queen for the United States Coast Guard Academy in New London, CT.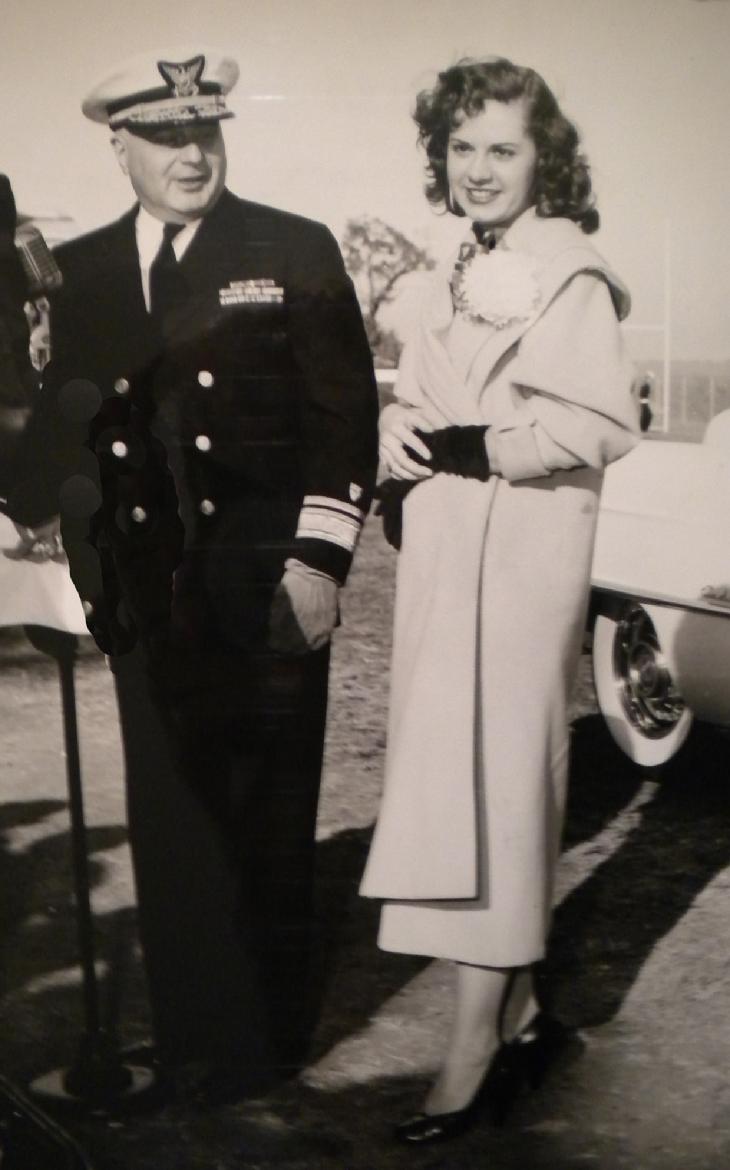 Football Queen for Coast Guard Academy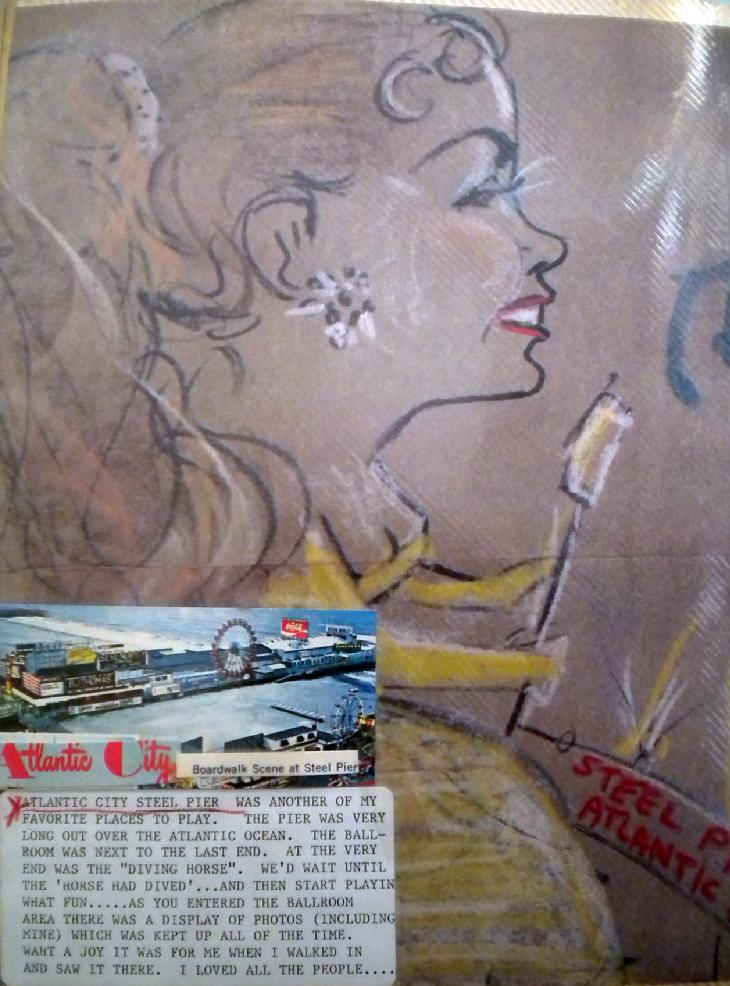 Atlantic City Steel Pier
In 1957 Debbie was hired by the Johnny Long Orchestra as their lead singer. They opened for the Patti Page show on television, went on the road, opened for Brenda Lee, Carmel Quinn, Julius La Rosa, Rudy Valley and scores of others.
"Rudy Valley shared the spotlight with Johnny Long's fine band which featured the lovely Debbie Brown on vocals and she proved to be the equal of any band singer since Benny Goodman's Peggy Lee."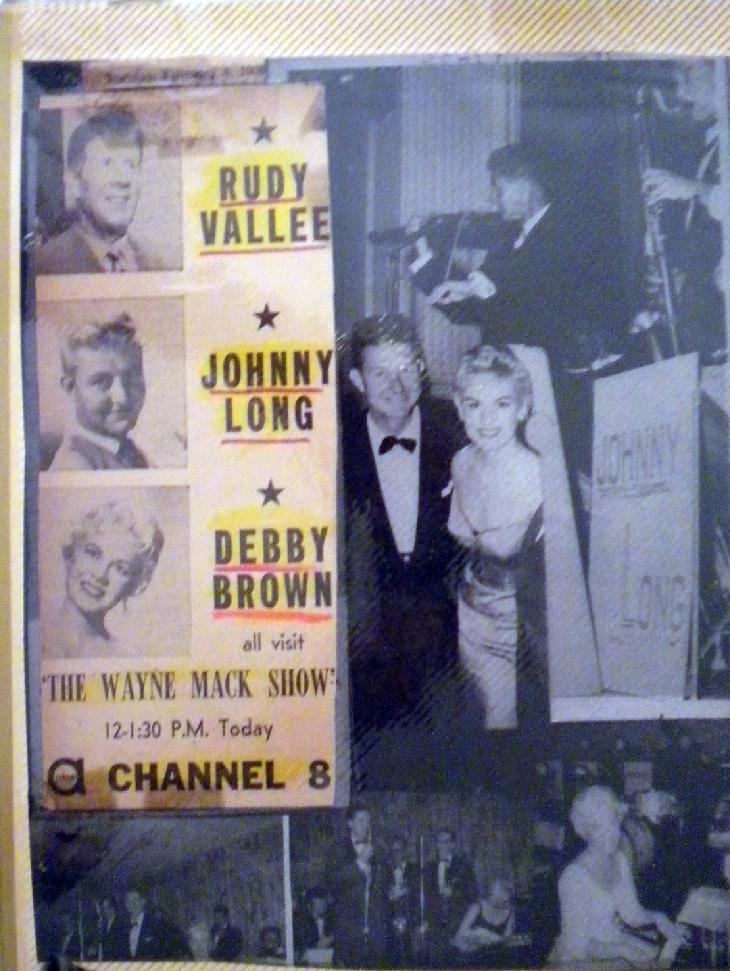 Debbie and Johnny
Debbie getting ready to sing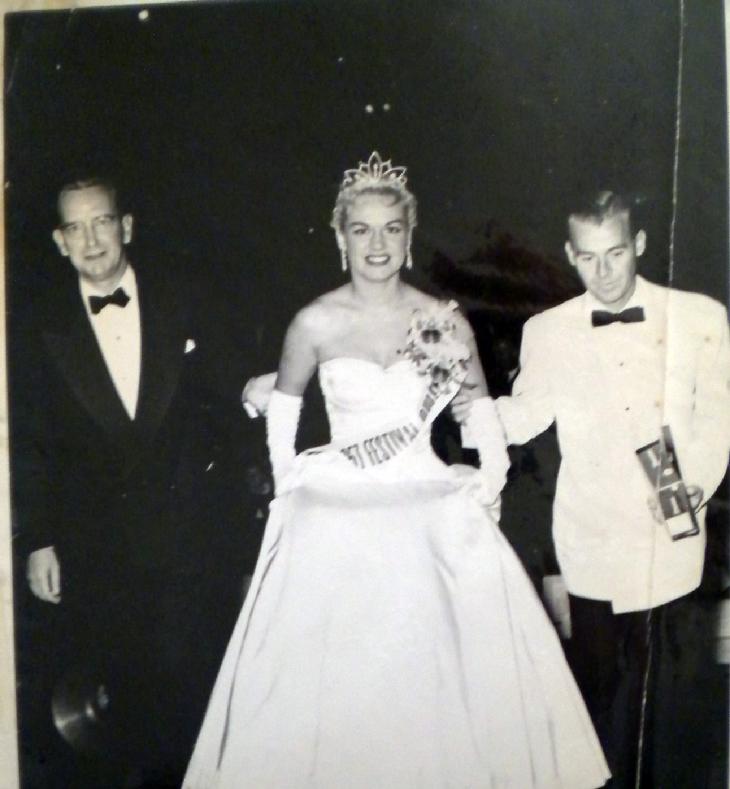 Debbie Brown is named Apple Festival Queen of Virgina while signing with the Johnny Long Band.
Debbie went to New York City to look for work in 1958, tired of being on the road. She was invited to a party at well know musician, Sy Oliver's apartment, and met a man who asked her what she did for a living. She told him she was the lead singer for the Pee Wee Hunt Band and about her career with Johnny long, Billy May, etc. He told her that they were looking for a singer at the prestigious Pierre Hotel. Debbie called the musical director, Stanley Melba, auditioned and got the job. She ended up staying there for a momentous ten year career, which included becoming a frequent and popular mention in the tabloids by the well known gossip columnists...Walter Winchell, Dorothy Killgallen, Earl Wilson, Burt Bacharach, Jack O'Brien, Frank Farrell, Leonard Lions and more. She sang on a weekly radio show eminating from the Hotel Pierre.
"...Enchanting entertainer...the very cute Debbie Brown chants the love songs..." New York Mirror
"A beautiful doll...who's name is Debbie Brown. The bigness of the talent and the wonderful work she does in hospitals singing for the sick, but it's the talent, yea, big and great, even as the heart of the lady. And every night at the swank Hotel Pierre in Manhattan, she slays them..."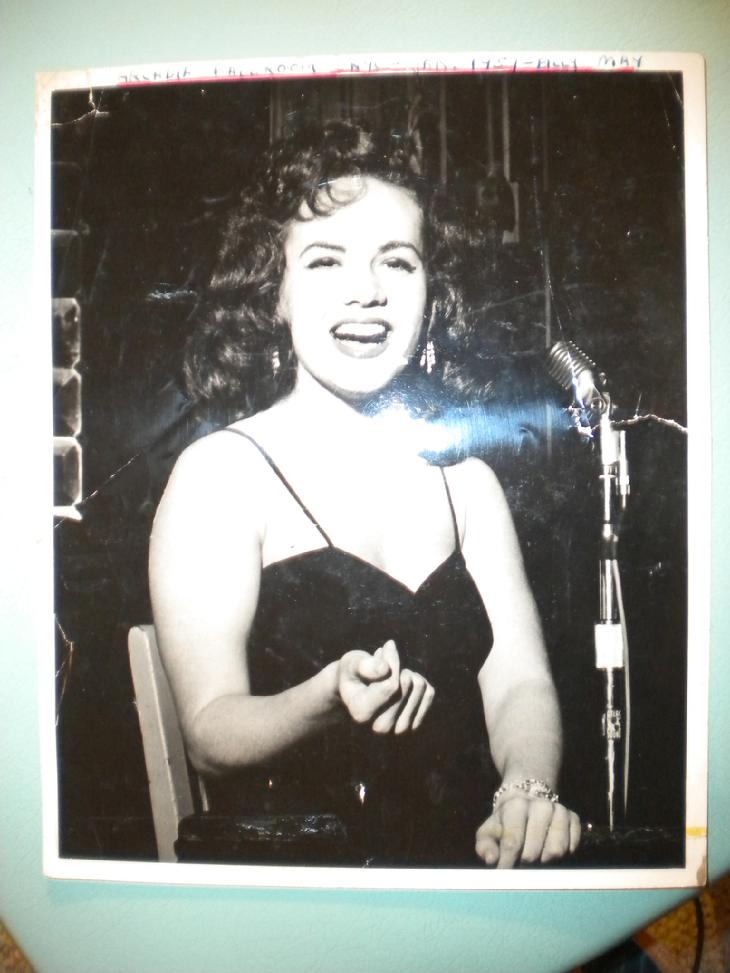 Debbie jazzing it up!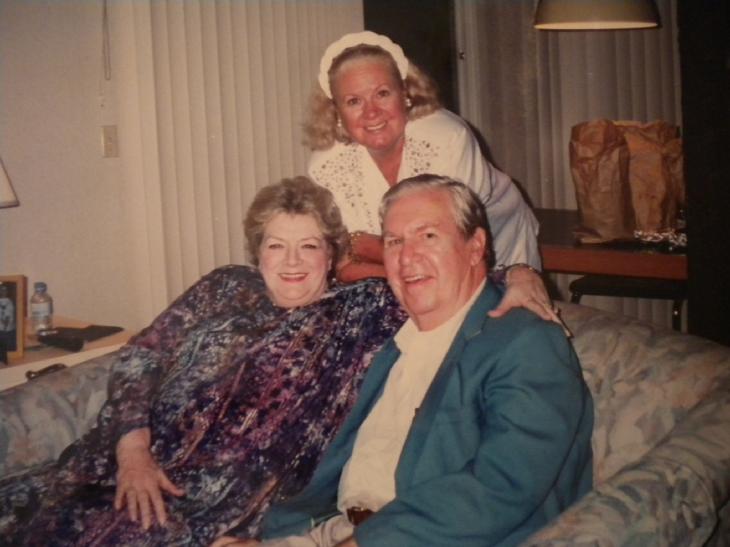 Debbie left the Hotel Pierre when she married Walter Murphy, shown here with his client and their good friend, Rosemary Clooney.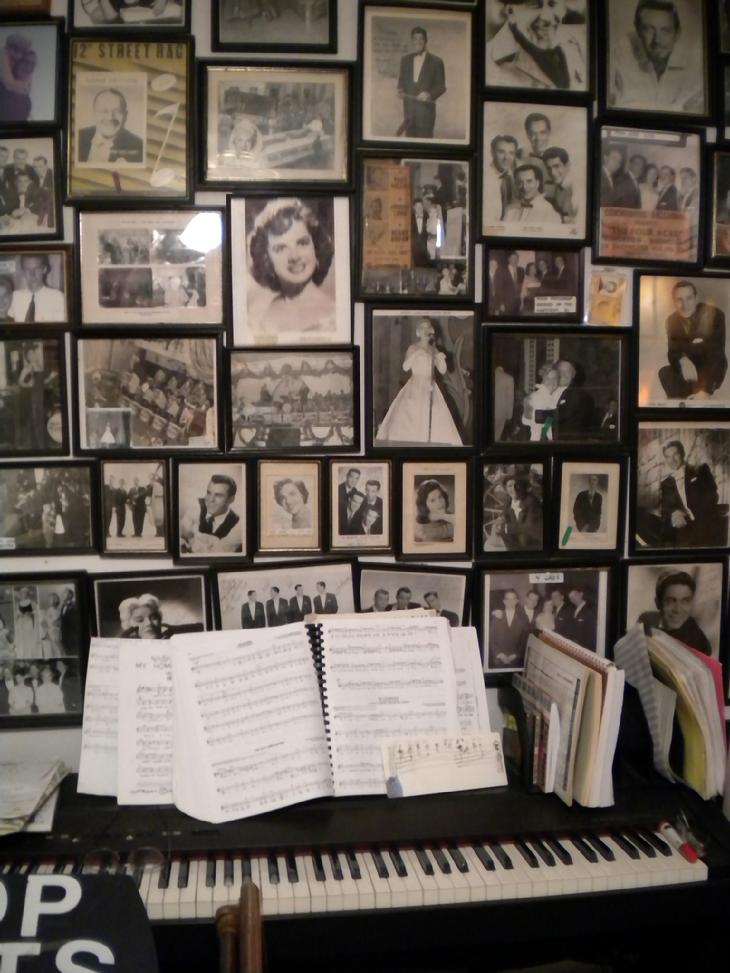 Debbie's wall of memories
Debbie continues to perform playing keyboard and singing, with her partner Billy Mure. Their band name is the Top Hats, which they expand to a five piece Dixieland Band on Sunday night at Squid Lips. On Thursday nights at Patti's Bistro in Sebastian FL you'll find Debbie and Billy playing standards. The Top Hats is also booked for country club events and private parties in southern Florida.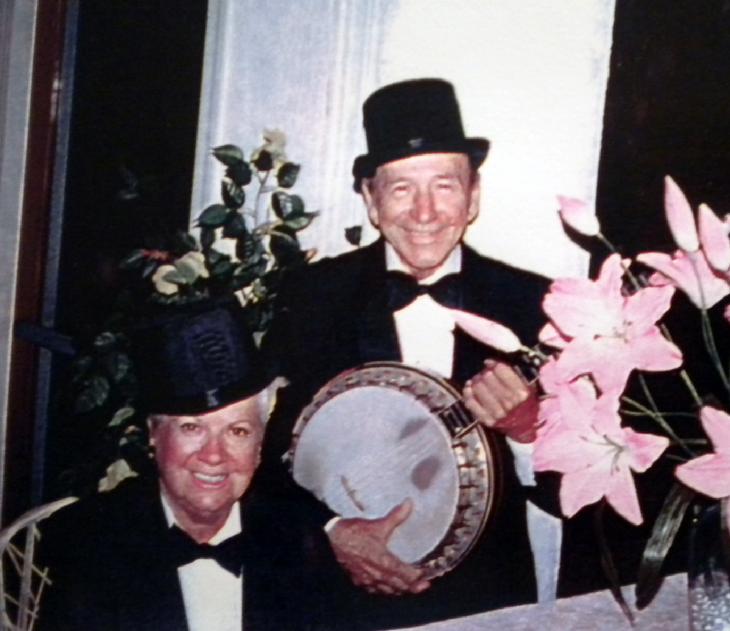 Debbie and Billy
That's Debbie in the middle!
In 1955 Debbie got a job with the Bob Bachelor Orchestra, opening for New Englands top bands and famous acts performing at the Commodore, Totem Pole, Roads on the Pawtuckett, with the Four Lads, the Four Freshman, the Four Aces and the Crew Cuts. The Bob Bachelor Orchestra did the battle of the bands with the Tommy Dorsey Orchestra.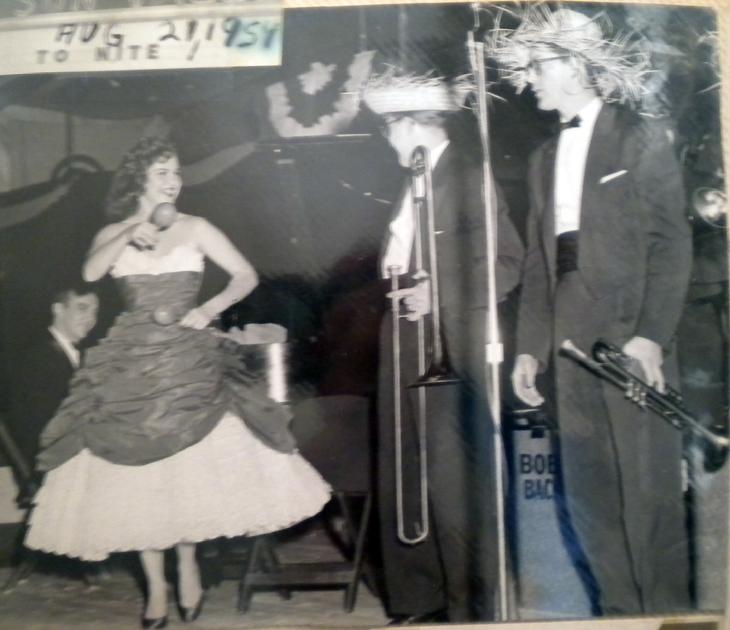 Singing and dancing with the Bob Bachelor Orchestra
Wtih the Four Aces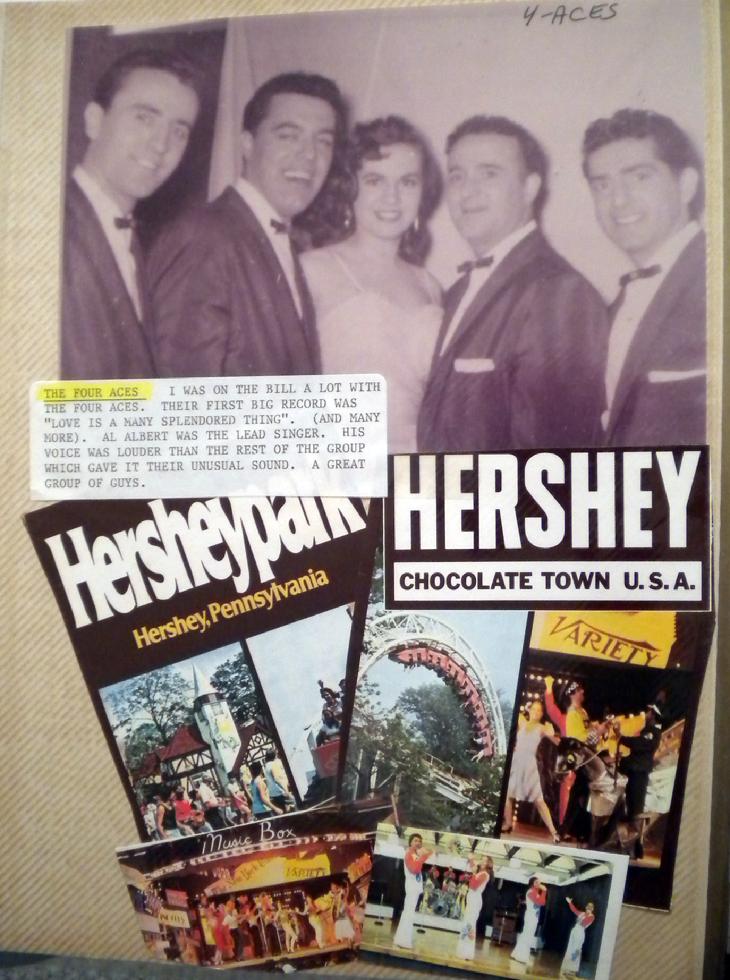 On the Road in Hershey Pa
In 1956 Debbie was hired by the Billy May Orchestra and traveled around the country by bus, giving concerts with a grueling schedule that required her to sleep, learn her songs, make her costumes, all in the comfort of the bus! They opened for Tony Bennett, Martin and Lewis, played Atlantic City NJ every year and did the battle of the bands with Tommy Dorsey Band, as well as radio shows with Jimmy Dorsey.
Greenville SC - Hodgeville SC - Lebanon TN - Clemson SC - Ft Bragg NC - Ft Knox KY - Youngstown OH - Collegeville PA - Chicago IL - Cedar Lake MI - Superior WI - Austin MN - St Paul MN - Milwaukee WI - Ionis MI - Cincinnatti OH - New Castle PA - Ontario Canada - Pittsburgh PA - Walled Lake MI....all in one month.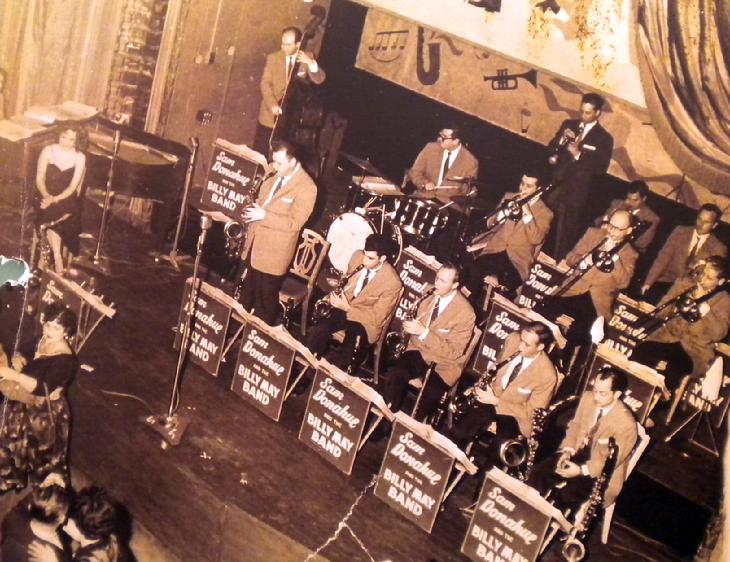 With the Billy May Orchestra
The Billy May Bus
BILLY MAY ORCHESTRA JUNE ITINERARY...Richmond IN, Lessport IN, Fruitport MI, Sault Ste Marie, Lima OH, Charleston WV, Columbus OH, Louisville KY, Chicago IL, Spring Valley IL, Ontario Canada, Pittsburgh PA, Atlantic City NJ, Hampton Beach NH, Boston MA, Bridgeport CT, Weirs NH, Old Orchard Beach MA, Steel Pier Atlantic City NJ, Hershey Park PA, Canton OH, Cincinnatti OH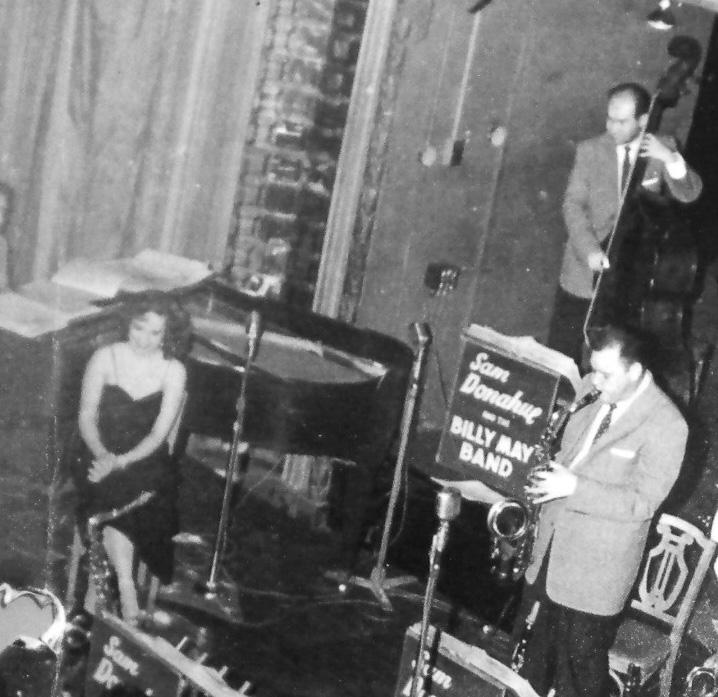 Debbie made all her costumes in the comfort of the bus!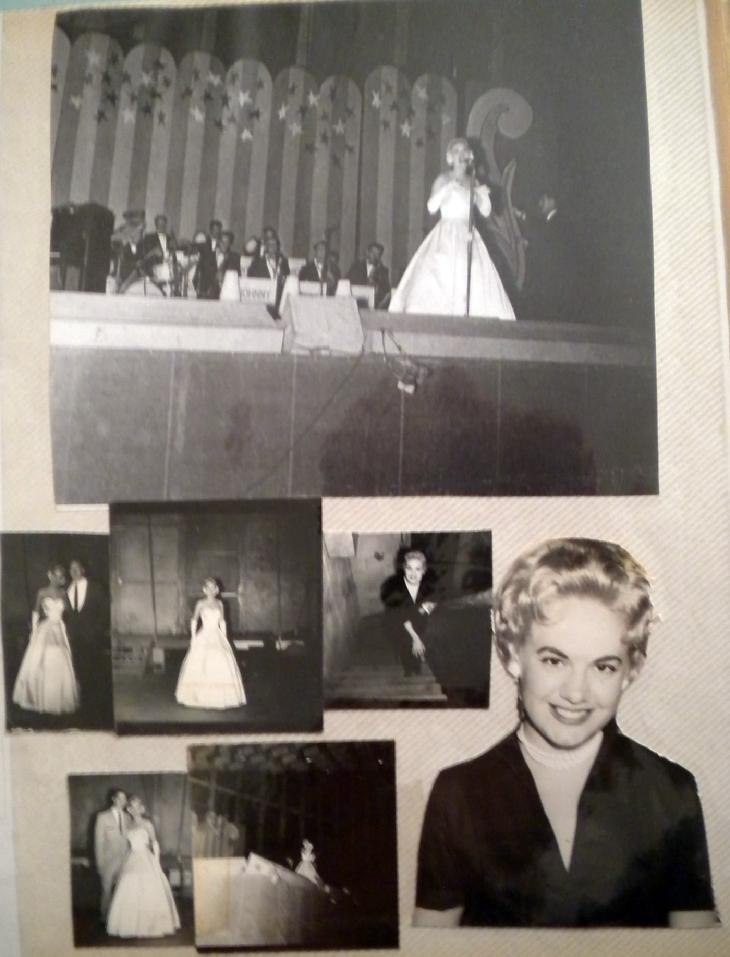 Debbie with the Johnny Long Orchestra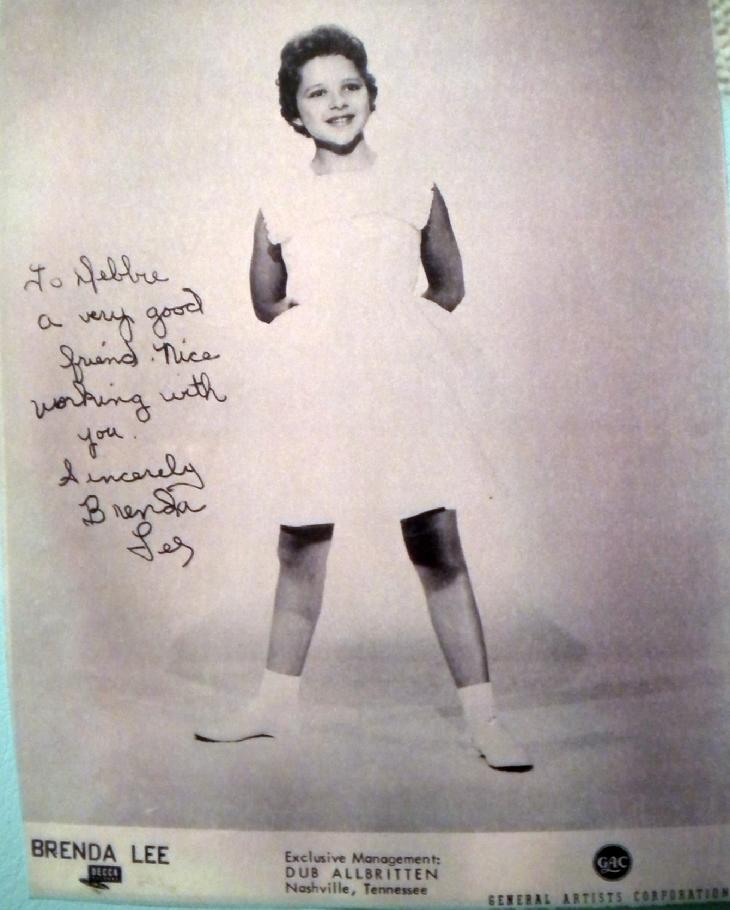 Brenda Lee and Debbie become good friends.
Debbie joined the Pee Wee Hunt Dixieland Band in New York City as the lead singer. They extensively toured the Army Bases in the North Pole during the Cold War. As they flew over the bases, they would contact the soldiers via radio and perform from the sky!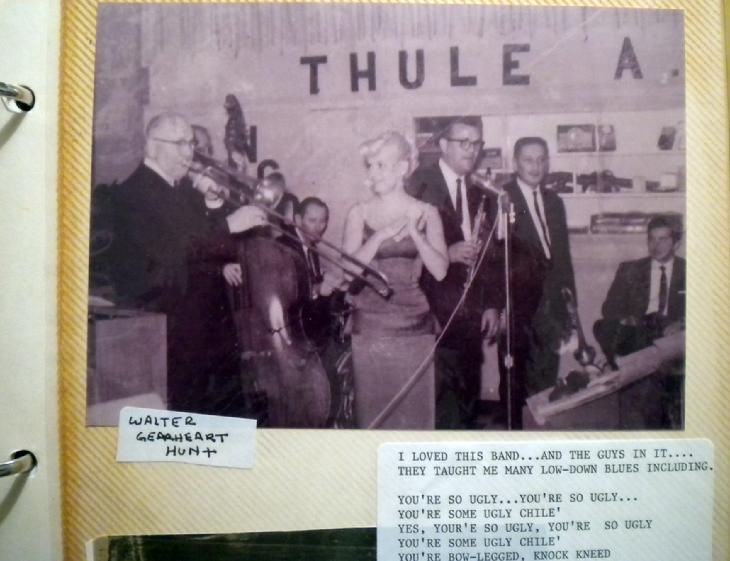 Singing at Thule Army Base in the North Pole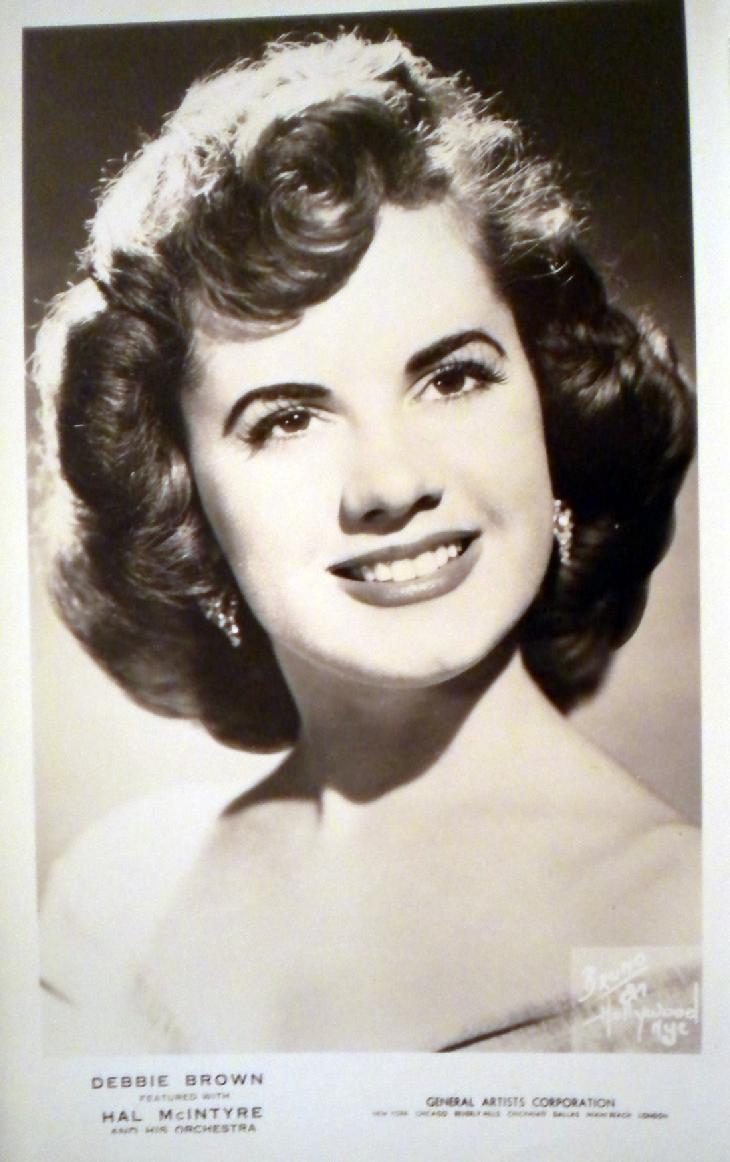 Debbie with the Hal McIntyre Orchestra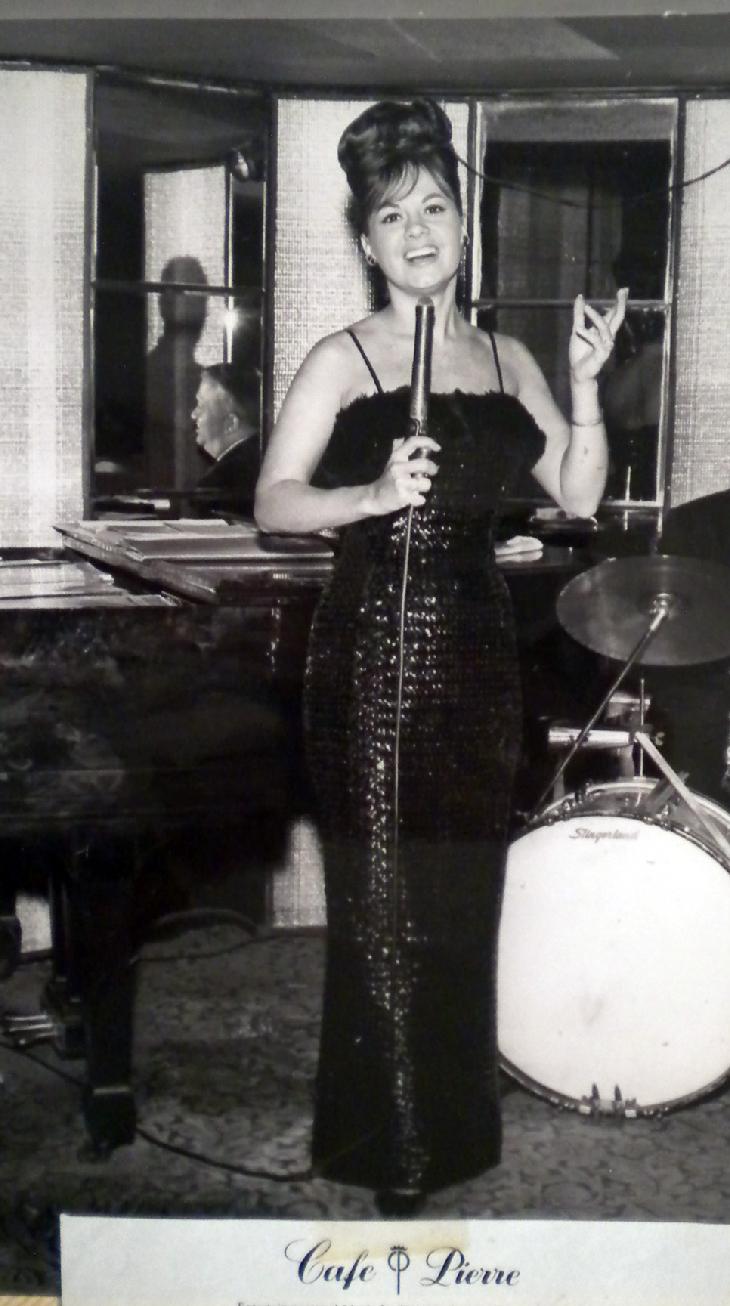 Debbie sang at the Hotel Pierre's Cotiilion Room and Cafe Pierre for ten years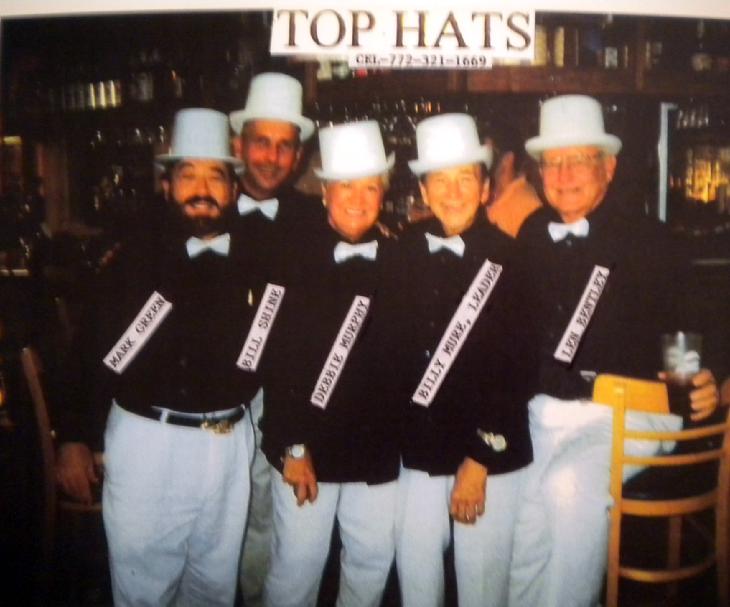 Debbie and Billy's Dixieland Band...The Top Hats